By ETimes
Weak sentiments continued to pervade the local bourse, as the mainstream Zimbabwe Stock Exchange All Share Index dipped by 2.93% to 22,229.73 points. However, year to date, the index is up 105.41%.
The market's downturn was paired with low trading activity compared to the performance in the previous session. Big caps were the toast of investors on the trading floor of ZSE, with Econet emerging as the most active stock after the day's activities, trading 389 500 shares worth $74.03 million.
It was trailed by Delta which exchanged 146 300 shares worth $54.84 million. Simbisa traded 139 800 shares valued at $31.38 million.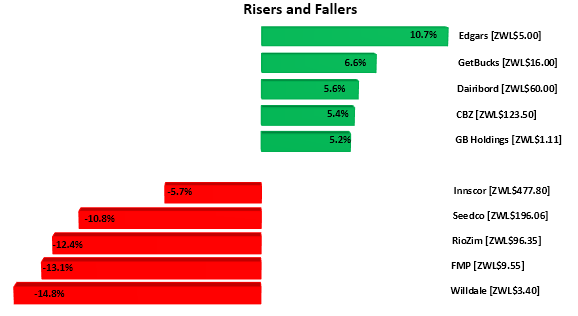 Today's performance comes as the Morgan & Co Economics and Market Intelligence Report stated that the country's economic outlook remains "highly uncertain." The market is characterized by inflationary pressures and exchange rate volatility.
Market breadth, which shows the depth of investors' sentiment towards trade, was negative as there were 17 laggards compared to 14 gainers.
Losses in Innscor saw the Top 10 Index lose 3.88% to close at 14,133.49 points. Innscor was down 5.74% to close at $477.80.
Bucking the trend was CBZ which added 5.43% to finish at $123.50.
Edgars, a mid-tier stock, led gainers, rising 10.77% to $5.00.Getbucks went up 6.67% to $16.00. The milk processor, Dairibord rose to $60.00, notching up 5.63% in the process.
Brick maker Willdale was the worst performing stock, dropping 14.80% to close at $3.40. FMP eased 13.16% to $9.55. Seedco lost 10.88% to close at $196.06. As a result, the Medium Cap Index retreated 0.50% to close at 41,123.37 points.
The Small Cap Index recovered 4.56% to close at 500,259.48 on GB Holdings which gained 5.28% to close at $1.11.
Gold miner RioZim was off 12.41% to end at $96.35.
On ETFs, the Made in Zimbabwe was the only gainer with 1.31% to close at $1.1700. The OM ZSE Top-10, Datvest and Morgan & Co Multi-Sector fell 8.47%, 4.15% and 3.58% to close at $9.7516, $2.0998 and 25.9565 respectively – Harare