By ETimes
For the second consecutive day, the Zimbabwe Stock Exchange (ZSE) recorded a marginal gain, with the equity capitalization closing at $2.57 trillion on Tuesday.
The figure was $13.52 billion higher than the $2.56 trillion the bourse posted the previous day.
The market breadth for the day was positive, as 23 equities appreciated in price, 7 equities depreciated in price, and 16 equities remained unchanged.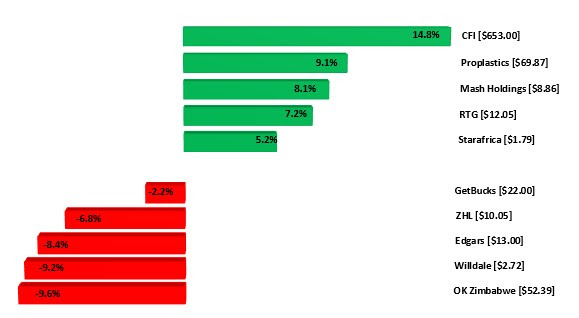 Investors traded 2.24 million shares worth $449.30 million in 241 deals. This was in contrast to the 1.54 million shares valued at $137.11 million that exchanged hands in 170 deals on Monday.
Delta led the day's trading with 601 200 shares valued at $315.94 million. OK Zimbabwe followed with 779 300 shares valued at $40.83 million.
At close, the mainstream ZSE All Share Index gained 0.43% to close at 28,548.02 points.
CFI lifted the Top 10 Index as it climbed 0.27% to end at 16,983.33 points.
However, OK Zimbabwe was the worst performer, down 9.64% to finish at $52.39.
Mid-tier stock Proplastics was up 9.18% to end at $69.87. Property firm Mash Holdings traded up 8.14% to close at $8.86. Hospitality group RTG rose to $12.05, notching up 7.24% in the process. Sugar processor Starafrica completed the top 5, climbing by 5.26% to close at $1.79.
As a result, the Medium Cap Index garnered 0.80% to close at 62,970.45 points.
Brick maker Willdale shed 9.29% to close at $2.72. Clothing retailer Edgars fell to $13.00, losing 8.45%. ZHL lost 6.87% to $10.05. GetBucks closed at $22.00, going down by 2.22%.
The Small Cap Index was off 0.15% to close at 631,204.30 points.
OML ETF was off 2.03% to $8.5718 while Cass Saddle Agriculture ETF depreciated by 1.71% to close at $2.1000. Other ETFs remained unchanged.
On the VEFX, Simbisa added 0.28% to finish at US$0.4508.
On the downside, Innscor Africa Limited and SeedCo International declined 4.74% and 0.44% to close at US$0.7983 and US$0.3150 respectively – Harare