By ETimes
The Zimbabwe Stock Exchange (ZSE) opened this week on a positive note, rising by 0.79% at the close of trading on Monday, January 23.
Gains in CBZ and Innscor saw the Top 10 Index rise 0.82% to end at 13,495.76 points. Banking counter CBZ rose 5.67% to close at $148.07, while Innscor gained 3.39% to finish at $672.00.
On the other hand, OK Zimbabwe and EcoCash lost 2.90% and 1.62% to close at $38.03 and $54.11, respectively.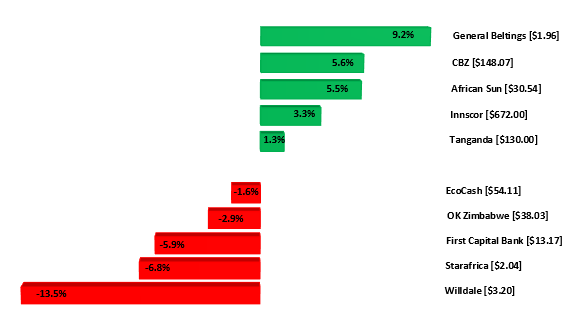 The Medium Cap Index recovered 0.69% to close at 43,911.33 points. Hotelier African Sun was up 5.58% to close at $30.54 and Tanganda added 1.34% to settle at $130.00.
Topping the losers' set was Willdale, which eased 13.51% to close at $3.20. Starafrica followed, slumping 6.85% to close at $2.04. First Capital Bank was down 5.92% to close at $13.17.
General Beltings led the risers, up 9.26% to end at $1.96. The Small Cap Index climbed by 0.69% to close at 474,100.21.
Market capitalisation increased by $12.53 billion to $2.35 trillion.
Turnover for the day declined from $687.36 million in the previous session to $327.68 in 227 deals. Delta was the toast of investors for the day as it made the most traded stock by value at $121 million.
The Cass Saddle Agriculture ETF added $0.2244 to $2.2044 and the Morgan & Co Made In Zimbabwe ETF recovered $0.0192 to $1.3000.
Morgan & Co Multi Sector ETF was flat at $23.2333, Datvest Modified Consumer Staples ETF lost $0.0784 to $1.5016 and Old Mutual ZSE TOP 10 was down $0.0006 at $7.4894.
Tigere REIT recovered $1.0212 to close at $44.0212 – Harare