By ETimes
The local bourse rallied for a second day on Thursday, with the mainstream All Share Index rising 0.85% to 14,186.15 points. The session yielded 17 gainers and 8 losers.
Accordingly, investors' wealth in the stock market increased by $33.36 billion to $1.72 trillion. The Top 10 Index recovered 0.56% to close at 8,379.19 points. Among the heavyweights, Simbisa put on 7.36% to $211.50 while Innscor added 3.50% to $305.01.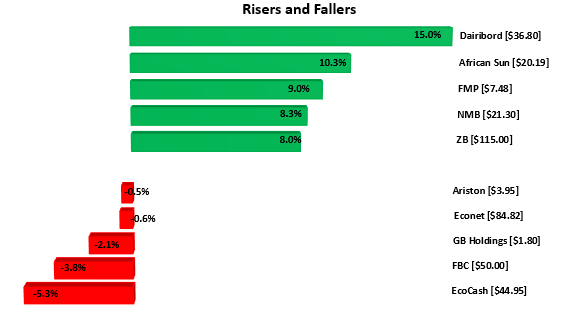 Ecocash led the losers' chart by 5.35% to close at $44.95 followed by Econet, slumping by 0.65% to close at $84.82. Delta lost 0.14% to end at $219.80. Transactions in the shares of Delta topped the activity chart with 481,100 shares valued at $105,748,760.
Turnover for the day improved to $228.06 million from $115.02 million in the previous session.
Dairibord recorded the highest price gain of 15% to close at $36.80. Hotelier African Sun followed with a gain of 10.33% to end at $20.19 and FMP went up 9.02% to $7.48.
NMB rose 8.30% to $21.30. In the Zimbabwe Independent Banks and Banking Survey 2022, NMB was chosen as Zimbabwe's top bank yesterday after outperforming rivals in a number of crucial areas, including profitability, efficiency, and shareholder value creation.
ZB added 8.08% to $115.00 and completed the top five gainers' table. As a result, the Medium Cap Index gained the most, rising 0.63% to 30,684.80 points.
Losses were recorded in FBC and Ariston, which eased 3.85% and 0.50% to $50.00 and $3.95 respectively.
The Small Cap Index was up 0.45% to 481,064.68 points, although GB Holdings recorded a loss of 2.13% to $1.80.
The Cass Saddle Agric ETF gained 3% to $2.0600, Morgan & Co Made in Zim went up 9.57% to $1.2600 and the OM ZSE Top-10 ETF garnered 2.58% to $5.4110.
On the downside were the Datvest ETF, which lost 1.90% to $1.7000, while the Morgan & Co Multi-Sector fell 6.36% to $22.0000 – Harare