By ETimes
Following losses suffered by many blue-chip stocks, the Zimbabwe Stock Exchange (ZSE) reversed gains to close on a downward note at the week's opening.
Many speculative buyers rushed to take profits after the recent rally.
In other economic developments, the Tobacco Industry and Marketing Board (TIMB) announced dates for the opening of this year's tobacco marketing season.
"All stakeholders are advised that the 2023 Auction Tobacco Marketing Season opens on Wednesday 8 March 2023," TIMB said in a statement.
"Contract tobacco sales will begin on Thursday 9 March 2023."
Traditionally, the opening of tobacco auction floors leads to improved foreign exchange inflows in the country, with buyers scrambling to purchase the crop.
At close of trading, the mainstream ZSE All Share Index fell 2.29% to close at 29,257.89 points. In the same vein, market capitalisation declined by $70.24 billion to $3.15 trillion.
Market breadth closed at par with 12 gainers and 12 losers.
CBZ led the losers' chart by 13.79% to close at $165.00, while Delta followed with a decline of 7.57% to close at $600.01. This saw the Top 10 Index fall the most, by 3.52%, to close at 18,427.74 points.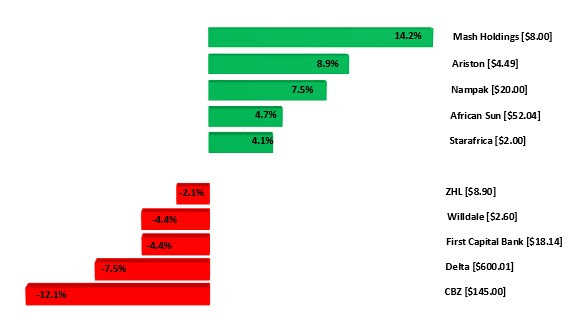 The Medium Cap Index was the only gainer, up 0.73% to close at 56,004.49 points.
Property firm Mash Holdings had the highest price gain of 14.27% to close at $8.00. Ariston followed with a gain of 8.97% to close at $4.49, while Nampak appreciated by 7.53% to close at $20.00.
African Sun gained 4.75% to close at $52.04, while Starafrica gained 4.12% to close at $2.00, rounding out the gainers table.
On the other hand, First Capital Bank lost 4.47% to close at $18.14, while Willdale shed 4.46% to close at $2.60 after a dip in first quarter sales volumes. ZHL closed at $8.90, up 2.16%.
The Small Cap Index remained unchanged at 518,723.45 points.
Market turnover declined by 80.47% to $443.17 million. Transactions in the shares of Econet topped the activity chart with 573,300 shares valued at $125,012,900. Innscor followed with 97,700 shares worth $79,657,530.
The OM ZSE Top-10 ETF gained 2.53% to close at $9.1024. The Datvest Modified Consumer Staples ETF increased marginally by 0.02% to end at $1.6005.
In the red was the Morgan & Co Made in Zimbabwe, which declined 1.89% to settle at $1.3147. Other ETFs were virtually flat.
Tigere REIT was flat at $50.6100 – Harare