…as mid-tier stocks drive ZSE to a marginal gain
The Zimbabwe Stock Exchange on Friday gained 0.14%, extending bullish sentiment to two consecutive trading sessions.
As a result, the market breadth closed positive, with 14 gainers and 5 losers.
In summary, the ZSE All Share Index increased by 31.14 absolute points, representing a growth of 0.14%, to close at 22,142.52 points.
However, market capitalization declined by 0.33% to $2.35 trillion.
Zimplow emerged as the top gainer, while FML emerged as the top loser.
The Top 10 Index was down 0.44% to close at 13,612.5 points on Axia, Innscor and Delta.
The Medium Cap Index fell 1.66% to 45,157.58 points. The Small Cap Index was down 0.03% to settle at 474,766.97 points.
Market turnover fell 49.48% to $596.35 million.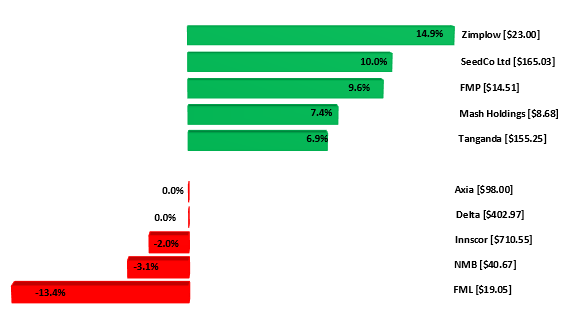 Old Mutual ZSE TOP 10 recovered $0.0923 to $7.5022 and Cass Saddle Agriculture ETF ticked up $0.0100 to $2.2500.
Morgan & Co Multi Sector ETF and Morgan & Co Made In Zimbabwe ETF remained flat at $24.5000 and $1.3000, respectively, whilst Datvest Modified Consumer Staples ETF shed $0.0025 to $1.4975.
Tigere REIT recovered by $2.2700 to close at $50.6200.
Meanwhile, Fitch Solutions expects Zimbabwe's GDP growth will accelerate to 2.4% in 2023 from 2.0% in 2022.
"The acceleration in growth in 2023 will be driven by a more expansionary fiscal policy in the run-up to elections in the middle of the year and an easing of price pressures, which should provide further support to consumers," said the top American market research firm – Harare