By ETimes
The Zimbabwe Stock Exchange closed on Thursday in negative territory as the market capitalization declined by $267.55 million to $2.31 trillion. The ZSE All Share Index also declined by 0.21% to 21,857.18 points from 21,903.09 points recorded on Wednesday.
Market breadth closed negative as 13 stocks were on the laggards' list and 12 on the leaders' table.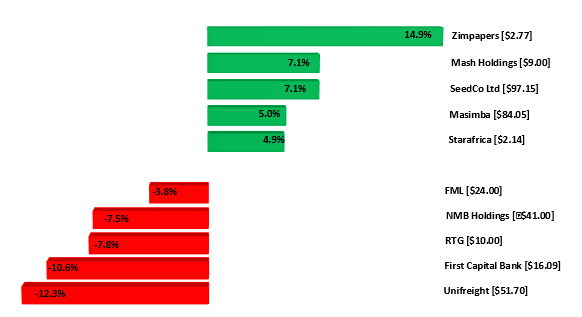 Accordingly, the Top 10 Index lost 0.01% to close at 13,857.44 points. OK Zimbabwe and CBZ eased 0.25% and 0.22% to finish at $44.84 and $137.53 respectively.
Axia added 0.02% to $99.91 after issuing a circular to shareholders. The stock's listing on the local bourse will be terminated on lders. The stock's listing on the local bourse will be terminated on February 28, with the last day of trading of its shares on ZSE on the 24th of next month. On March 2, 2022, the Axia share register will be transferred from the ZSE to the Victoria Falls Stock Exchange (VFEX).According to the circular, Axia's VFEX listing will be completed on March 3, 2022.
A breakdown of the price movement chart shows that Zimpapers recorded the highest gain to lead the gainers' chart with 14.99% to close at $2.77. This saw the Small Cap Index as the only riser, rising 1.68% to settle at 461,856.19 points.
The Medium Cap Index suffered the most, as it fell 0.81% to close at 41,040.30 points. Unifreight led the losers' chart, dropping by 12.37% to close at $51.70. First Capital Bank dipped by 10.65% to close at $16.09.
RTG lost by 7.83% to close at $10.00 while NMB dipped by 7.50% to close at $41.00. FML fell 3.82% to end at $24.00 completing the top 5 losers set.
Conversely, Mash Holdings gained 7.17% to close at $9.00. SeedCo Limited appreciated by 7.15% to close at $97.15. Masimba was up 5.06% to finish at $84.05. Starafrica inched up by 4.97% to close at $2.14.
Analysis of today's market activities showed trade turnover settled lower relative to the previous session, with the value of transactions declining by 48.98%.
A total of 2.78 million shares valued at $279.45 million were exchanged in 244 deals.
Cass Saddle Agriculture ETF remained flat at $1.8502. On the downside, Morgan & Co Multi Sector ETF lost a further $0.0182 to close at 22.0000 and Datvest Modified Consumer Staples ETF fell by $0.0036 to $1.5145, Morgan & Co Made In Zimbabwe ETF shed $0.0470 to $1.2030 and Old Mutual ZSE TOP 10 was down $0.0831 to $7.4190.
Tigere REIT added $0.0033 to close at $54.1500.
Meanwhile, the ZSE announced the voluntary suspension of trading in shares of Lafarge Cement Zimbabwe Limited, effective January 13, 2023.
"The suspension is for a period of 3 months to allow Lafarge to attend to material developments within its operations post the execution of a sale and purchase agreement between Associated International Cement Limited and Fossil Mines (Private) Limited for a 76.45% shareholding in Lafarge," it said.
"At Lafarge's request, the ZSE sought and was granted permission to suspend trading in its shares by the Securities and Exchange Commission of Zimbabwe pursuant to the provisions of Section 64(a) (ii) of the Securities and Exchange Act [Cap 24:25]."
ZSE added that: "The ZSE has requested Lafarge to provide a roadmap on how they aim to resolve the challenges they currently face. Lafarge Cement Zimbabwe Limited will issue a public notice addressing this point in due course." – Harare