By ETimes
The Zimbabwe Stock Exchange maintained its bearish position on Friday as market indicators dropped further amid selling pressure in heavyweight stocks.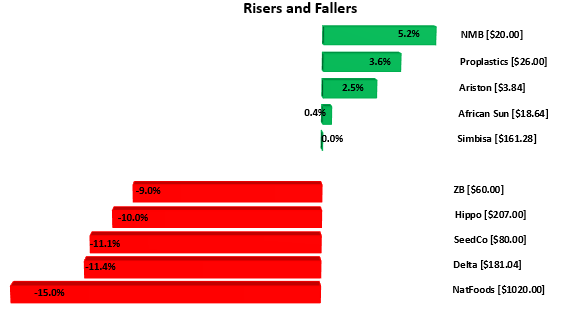 Market breadth, which gauges investors' sentiment towards trade, closed in the negative as 21 decliners were recorded in contrast to 5 gainers.
At the close of trade, the mainstream ZSE All Share Index was off 4.13% to close at 13,068.97 points.
NatFoods topped the losers' chart, declining by 15% to close at $1020.00. Delta went down by 11.43% to end today's trade at $181.04. Hippo fell to $207.00, losing 10%. The Top 10 Index lost 5.22% to settle at 7,685.06 points.
Conversely, Simbisa was up a marginal 0.05% to end trade at $161.28.
Mid-tier stock NMB led advancers, appreciating by 5.26% to $20.00. Proplastics climbed up 3.69% to $26.00. Horticulture exporter Ariston added up 2.55% to $3.84. Hotelier African Sun advanced by 0.48% to end at $18.64. The Medium Cap Index retreated 1.80% to 28,877.44 points.
Losses were recorded in SeedCo and ZB, which eased 11.11% and 9.09% to finish at $80.00 and $60.00 respectively.
The Small Cap Index was flat at 495,776.26 points.
Market capitalisation took the direction of the ZSE All Share Index after declining 4.19% to $1.61 trillion. But market turnover was 436.46% higher at $787.80 million.
Transactions in the shares of Econet topped the activity chart with 4,321,800 shares valued at $366,014,900. EcoCash followed with 4,300,400 shares worth $214,084,400, while Delta traded 478,600 shares valued at $86,649,650.
In the derivatives market, the Datvest Modified Consumer Staples ETF fell 0.02% to $1.7411, the Morgan & Co Made in Zimbabwe fell 0.67% to $1.2800, and the Morgan & Co Multi Sector fell 0.65% to $27.0000. The OM ZSE Top-10 ETF fell 0.66% to $5.2000.
However, the Cass Saddle Agriculture ETF remained flat at $1.8051 – Harare